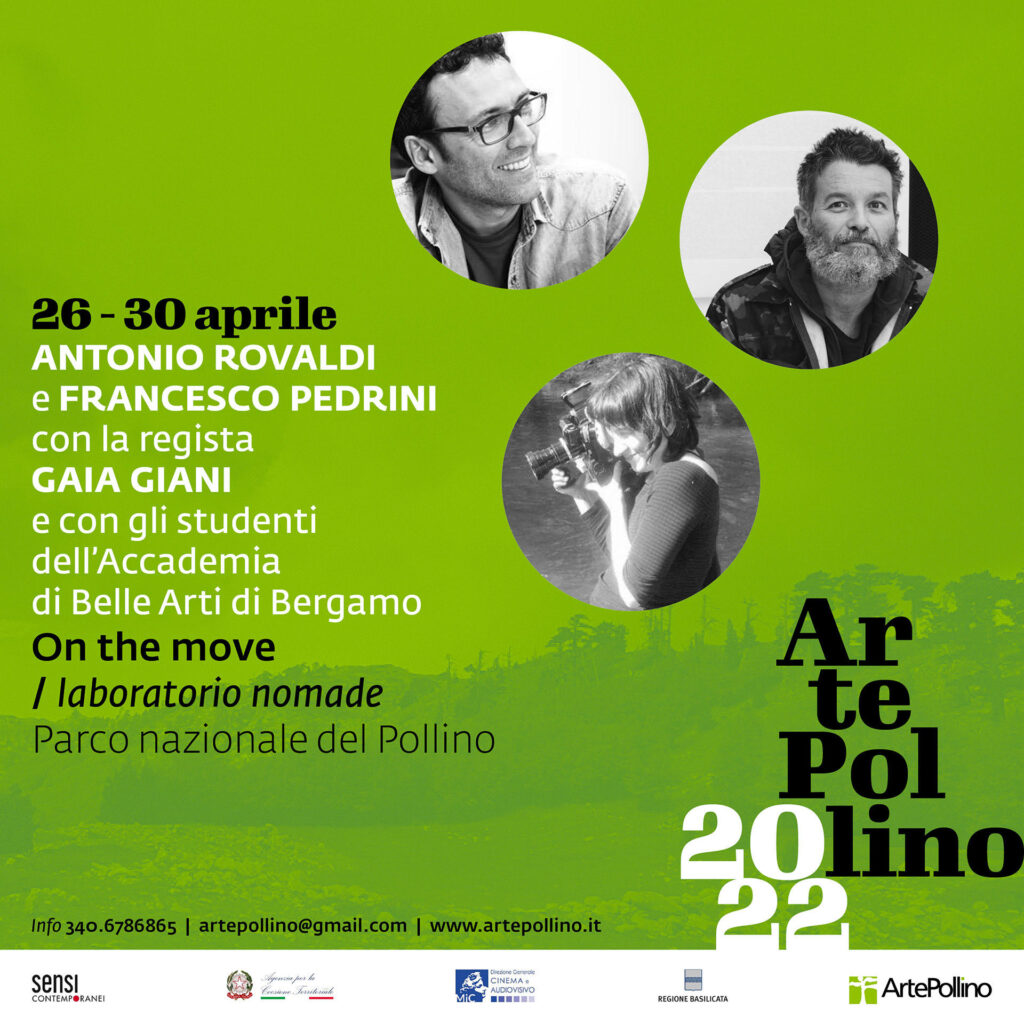 Description of activity
Together with the students of the Academy of Fine Arts "G. Carrara" in Bergamo, Francesco Pedrini, Antonio Rovaldi and Gaia Giani will reside in the Pollino Park from 26 to 30 April 2022 and will carry out the ON THE MOVE workshop on the act of walking as a useful tool to get to know the local area, listen to the landscape, in the perspective of production of scenarios developed through video, photography, sound, words and writing to tell the story of a journey.
Francesco Pedrini
Artist and teacher of drawing and painting. His research focuses on astronomy, vision, wind, and landscape crossing practices. Drawing is the basis of his artistic production, characterised by a multidisciplinary approach. He has exhibited his works in Bergamo, Turin, Buenos Aires, Tirana, Berlin (solo exhibitions) and in collective exhibitions at many galleries and institutions including the Biennale di Disegno in Rimini, the Buziol Foundation in Venice, the Merano Arts Festival, and the Tophane Culture Center in Istanbul. Since November 2021, he has been director of the Academy of Fine Arts "G. Carrara" of Bergamo.
Antonio Rovaldi
He studied art and photography at the New Academy of Fine Arts in Milan, where he graduated in 2000 under the guidance of Japanese artist Hidetoshi Nagasawa and photographer Mario Cresci. Since then, his artistic practice has investigated landscapes' perception by using various media, such as photography, video, sculpture, and sound installation. Since 2006, Rovaldi has been living between his adoptive city, Milan, and New York, where he has participated in several residence programmes. He teaches at the "G. Carrara Academy" of Fine Arts in Bergamo.
Gaia Giani
Graduated in philosophy, she works in documentary films as a researcher, producer and author.
In 2009, she made her first solo exhibition with the Cesura video installation and in 2010 her first photographic exhibition. Since then, she has been involved in photography and films.